The Department of Clinical Diagnostic Laboratories (CDL) began operating at the Clinical Training Centre (CTC), Faculty of Medicine, UiTM Sungai Buloh Campus in October 2010 and was known at that time with the Centre for Diagnostic Pathology and Research Laboratories (CPDRL). At that time, CPDRL was under the Cluster of Medical Laboratories. Once the cluster system is abolished, the Department of Pathology and the Department of Microbiology & Parasitology is created with their respective laboratory services.


However, in December 2020, in line with UiTM Teaching Hospital's establishment, these medical laboratories' services were reunited under the name of Department of Clinical Diagnostic Laboratories (CDL). The department functions to provide medical laboratory tests under one roof. CDL provides pathological services to PPUiTM Sungai Buloh, PPUiTM Selayang & external organizations. Besides, CDL provides diagnostic, research, and consultancy services in the following disciplines, namely Anatomic Pathology, Hematology &Transfusion Medicine, Chemical Pathology and Medical Microbiology & Parasitology.


CDL has been accredited with MS ISO 15189:2007 accreditation by the Department of Standards Malaysia since 2014. The CDL laboratory is located on the first floor of  Hospital UiTM Puncak Alam and  the first level of the Medical Specialist Centre, UiTM Sg. Buloh Campus.


Click HERE for further info regarding academic and research portfolios for the members of the Department of Pathology.
Anatomic Pathology Unit
Hematology & Transfusion Medicine Unit
Chemical Pathology Unit
Medical Microbiology & Parasitology Unit
Anatomic Pathology Unit

Histopathology
- Macroscopic and microscopic examination of tissue specimens with interpretative diagnosis.
Cytology
- Diagnostic and screening services based on the morphologic study of cells. It is divided into "Gynae Cytology" and "Non-Gynae Cytology"

Hematology & Transfusion Medicine Unit
Routine haematological tests such as complete blood count (CBC), Erythrocyte sedimentation rate (ESR), coagulation profile, fibrinogen, and peripheral blood film.
Transfusion services such as blood grouping, antibody screening, cross matching and provides blood components to a patient. This transfusion services in collaboration with the National Blood Bank (PDN).
Chemical Pathology Unit
Chemical Pathology deals with detecting changes in a wide range of substance such as electrolytes, blood gases, enzymes, glucose, proteins, lipids, hormones and etc. In the blood and body fluids in association with many diseases. Services provided include the pre-analysis, analysis, and interpretation of biochemical changes in serum/plasma and body fluids for screening, diagnosising, and monitoring of diseases, as well as consultation for diagnostic and research purposes.
Medical Microbiology & Parasitology Unit
This unit provides the following services;
1. Diagnostic and research services which comprise of bacteriology, virology, mycology, immunology, and parasitology
2. Participation in hospital infection control activities related to antibiotic monitoring and surveillance, as well as control d prevention of hospital acquired infections
Training
Various training programmes have been conducted in the CDL, such as:


Continuous Medical Education (CME)/ Journal Club: Case discussion, case presentations, meeting with other clinical departments, lectures and journal review is conducted at the unit and department level on a regular basis.
Postgraduate training centre: The Master of Pathology students do their master training according to the respective speciality and short attachment training for other Master's Program in Medicine candidates.
Industrial training for undergraduates of medical-related science degree courses from the various public and private universities in Malaysia
In-service training is provided for staff within the department according to each specific unit requirement to improve clinical, technological and analytical skill in the existing or new services. We are committed to increasing the staff's knowledge by sending individual staff for any courses conducted by other agencies or professional bodies which acquire skill and knowledge into the specific field of pathology.

Internal Quality Control

Reagent evaluation
Method evaluation
Calibrations of methods
Quality control
Performance audit
Audit and overview quality system
Turn-Around-Time

External Quality Assurance (EQA)

Haematology : RCPA
Transfusion medicine : RCPA & NEQABB
Chemical Pathology : RCPA & RIQAS
Anatomic Pathology : RCPA.MSOCQAP & IAPMD QAP
Medical Microbiology : RCPA,NEQAS,MCPath, MKAK & IMR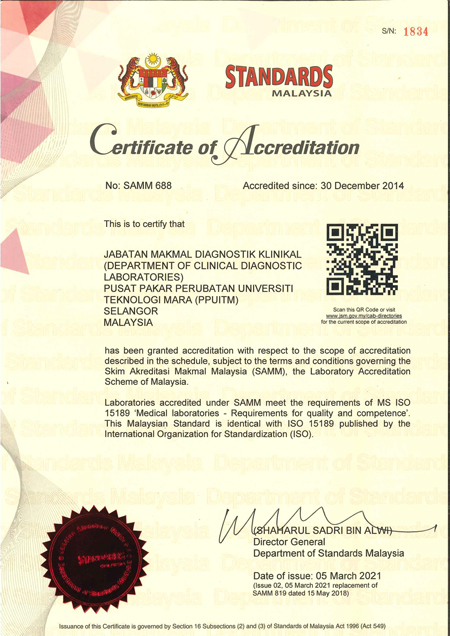 HUiTM Puncak Alam:
24 Hours

UiTM Medical Specialist Centre Sg. Buloh :
24 hours (except Anatomic Pathology).
The Pathologist is available for consultation or assistance after office hours for both campuses. (One Pathologist for each unit/call)
Dr Noraziah Sahlan (Ketua Jabatan)
Tel: 03-339610801
Email: aziah94@uitm.edu.my
A. HUiTM Puncak Alam
1. Specimen Reception (CSR)
03-33963000 ext 10807

2. Chemical Pathology Unit
03-33963130
3. Haematology & Transfusion Medicine Unit
03-33963131(Haematology) / 03-33963135 (Blood Bank)
4. Medical Microbiology & Parasitology Unit
03-33963128/3129
B. Medical Specialist UiTM Sg. Buloh:
1. Central Specimen Reception (CSR)/ Chemical Pathology Unit
03-61265000 ext 5215

2. Anatomic Pathology Unit
03-61265000 ext 5053 / 5244

3. Haematology & Transfusion Medicine Unit
03-61265000 ext 5215 / 5209 (Blood Bank)
HEAD OF DEPARTMENT of CLINICAL DIAGNOSTIC LABORATORIES

Dr Noraziah Sahlan

aziah94@uitm.edu.my

Pathologist
1. Anatomic Pathology Unit


Name

Email

Remarks

Dr Awla Mohd Azraai (Ketua Unit)

awla3399@uitm.edu.my

Pathologist

Dr. Mardiana Abdul Aziz

mardiana2507@uitm.edu.my

Pathologist

Assoc. Prof Dr. Noor Kaslina Mohd Kornain

noorkaslina@uitm.edu.my

Pathologist

Prof Dr Effat Omar

effat@uitm.edu.my

Pathologist

Dr Nor Salmah Bakar

bsalmah@uitm.edu.my

Pathologist

Dr Norizal Mohd Nor

norizal@uitm.edu.my

Pathologist

Dr Muhammad Afif Munshi

afif9675@uitm.edu.my

Pathologist

Dr Nurfareha Mohd Hatta

nurfareha@uitm.edu.my

Pathologist

Muhamad Idham Mohamed

midham@uitm.edu.my

Science Officer

Khairil Idzwan Jamaludin

khairil@uitm.edu.my

Science Officer
2. Chemical Pathology Unit


Name

Email

Remarks

AP Dr Noor Alicezah Mohd Kasim (Ketua Unit)

noor202@uitm.edu.my

Pathologist

Dr Aletza Mohd Ismail

aletza@uitm.edu.my

Pathologist

Dr Nadzimah Mohd Nasir

nadzimah@uitm.edu.my

Pathologist

AP Dr Thuhairah Hasrah Abd Rahman

thuhairah@uitm.edu.my

Pathologist

Dr Fathimah Mohamad

drfathimah@uitm.edu.my

Pathologist

Dr Arjoanna Farra Azizi

drarjoanna@uitm.edu.my

Pathologist

Dr Rafezah Razali

rafezah091@uitm.edu.my

Science Officer

Sarina Ali

juliana837@uitm.edu.my

Science Officer

Che Wan Juliana Che Wan Jaafar

juliana837@uitm.edu.my

Science Officer

Nurul Iza Ismail

nurul_iza@uitm.edu.my

Science Officer

Muhammad Shafiq Zahari

shariqzahari@uitm.edu.my

Science Officer
3. Haematology & Transfusion Medicine Unit


Name

Email

Remarks

Dr Zalizah Khalid (Ketua Unit)

zalizah@uitm.edu.my

Pathologist

Dr Fatmawati Kamal

fatmawati@uitm.edu.my

Pathologist

Dr Madyhah Abdul Monir

madyhah@uitm.edu.my

Pathologist

Dr Ummi Mohlisi Mohd Asmawi

ummieasmawi@uitm.edu.my

Pathologist

Dr Wan Asmuni Wan Mohd Saman

asmuni03@uitm.edu.my

Pathologist

KOL. DR. Amir Muhriz Abdul Latiff (B)

amuhriz@uitm.edu.my

Pathologist

Halimatun Radziah Othman

halimatun@uitm.edu.my

Science Officer

Nurul Hanini Mohd

nurulhanini@uitm.edu.my

Science Officer

Muhammad Fakhri Sallehuddin

mdfakhri@uitm.edu.my

Science Officer
4. Medical Microbiology & Parasitology Unit


Name

Email

Remarks

Dr Farah Roslinda Mohd Rustam (Ketua Unit)

farah7757@uitm.edu.my

Pathologist

Prof Dr. Ariza Adnan

arizaadnan@uitm.edu.my

Pathologist

AP Dr Fadzilah Mohd Nor

fadzi456@uitm.edu.my

Pathologist

Dr Siti Farah Alwani Mohd Nawi

sitifarah@uitm.edu.my

Pathologist

Dr Syahrul Azlin Shaari

syahrul@uitm.edu.my

Pathologist

Dr Nurul Azira Mohd Shah

nurul890@uitm.edu.my

Pathologist

Dr Noraziah Sahlan

aziah94@uitm.edu.my

Pathologist

Dr Normi Ngah Mohamed

normi@uitm.edu.my

Pathologist

Dr Siti Norbahiyah Awad

norbaiyah@uitm.edu.my

Pathologist

Nor Zilawati Mohamed Isa

norzielaisa@uitm.edu.my

Science Officer

Noor Aini Abu Bakar

nooraini1541@uitm.edu.my

Science Officer

Abu Thalhah Abdul Aziz

thalhahaziz@uitm.edu.my

Science Officer